<![CDATA[I just said goodbye to my old windows mobile phone yesterday. Got myself an LG P500 (with a stock Android Froyo) since it came bundled with my mobile line (Globe). I have to say that this mobile OS is definitely for geeks. Since Android Gingerbread was already out, I decided to upgrade my phone's OS. Here are the steps that I did to get my phone's operating system (OS) upgraded, rooted and overclocked: 1. First, I installed the stock Gingerbread ROM from LG with these instructions. The ROM take note is from LG India, I chose this ROM because it is not locked to any mobile carrier. 2. After the upgrade, I rooted my phone with these instructions. Look up post #2. 3. Then I installed ROM Manager with these instructions. I installed this one because I wanted to make sure I have a backup of my ROM before I do anything else with it. 4. Then I installed Franco's kernel for Gingerbread using ROM Manager. 5. Finally, I installed SetCPU and overclocked my phone to 729 MHz from 600 MHz. So far I'm very happy with the results. I chose the stock ROM because as much as possible I wanted most of the phone's available hardware/feature running, just to let you know what's working:
WiFi – works as expected.
GPS – works as well, not very accurate, was off by about 100 meters but I guess this is usual.
FM – works as expected, the channel scanner was very helpful in setting up the stations.
Bluetooth – works as expected, was able to pair it to my Plantronics headset and laptop with Win7 64bit. File transfers were a breeze though I had to set it up first.
Camera – no kinks whatsoever, works as expected no bugs found so far.
3G/HSPDA – works as well but I disabled it on purpose since I have WiFi available most of the time.
Tethering – this was the only thing that wasn't working. I'm able to connect when the mobile hotspot was enabled, however, I can't view any http data on my laptop. I can ping a domain though and it resolves to an IP but other than that nada.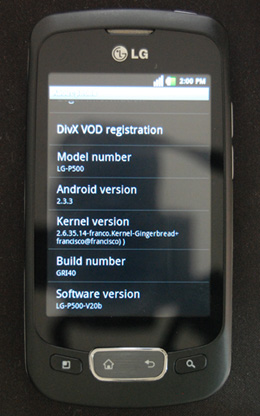 I chose the Franco kernel instead of stock because I wanted to try out the SmartassV2 governor for SetCPU. So far no complaints about it, I get a good mileage out of my battery (a single charge lasts me about 2 days) and the UI works smoothly. A word of caution,
IF YOU DON'T KNOW WHAT YOU ARE DOING THEN DON'T DO IT
. If you do not understand the steps that were done or how to recover your original ROM in case something goes wrong then there's a chance that you might brick your phone. I will not be liable if you brick your phone. I only did all these because I wanted to get the most out of my phone's hardware, besides
I'm a geek
.  Hope this helps ^_^]]>